Article content
A Calgary city council committee examining proposed new rules for multi-family units ended up getting an earful from citizens who weren't consulted on the proposed changes.
Article content
On Friday, council's infrastructure and planning committee heard from administration on land use bylaw amendments meant to address the so-called "missing middle" in housing: mid-sized developments such as rowhouses and townhouses.
Article content
Administration is proposing the creation of a new housing district known as H-GO, as well as some amendments to the land use bylaw to accommodate these same types of buildings.
Coun. Andre Chabot brought forward the request in April. He said he wanted to save time at council meetings that were being spent on hearings around the many applications for direct control districts and relaxations.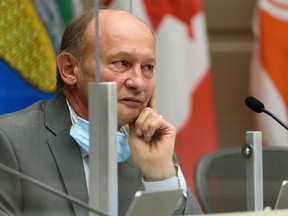 "I thought, well, let's look at creating a new district that takes into consideration the community's concerns and allows additional or increased opportunity for the development industry," he said.
Article content
Chabot's motion asked administration to report back to council by the third quarter of 2022. He said he fully expected the public would be engaged in the process, but that wasn't the case.
Administration said it delivered what it could in the four months it had to turn the request around. City officials did consult development industry experts, but not the public.
In one document, administration said public engagement was not accommodated in part because of the limited time it had been given. The document also suggested public consultation would not have helped shape the final product.
City explores selling on-street parking permits to apartment and condo residents

City exploring business licences for child-care providers

Gondek, CED headed to Hollywood on two-day trade mission

Carra offers separate apologies for failing to disclose property, Twitter attack
"Citizens would not have the technical expertise to contribute to the writing of land use districts," read one line in the report.
Article content
Many who spoke at Friday's public hearing took exception to the fact administration thought the public couldn't understand planning matters.
Philip Dack, a retired City of Calgary planner with more than 25 years of experience, said skipping consultations in favour of speed is not the right approach.
"That's not how planning works," he said. "If it's too complicated, it's the job of the planners to explain it and explain it and explain it until people understand it, or they know what's going to happen."
Dack said there could be good and bad ideas in the proposed changes, but he didn't have time to even read and digest them.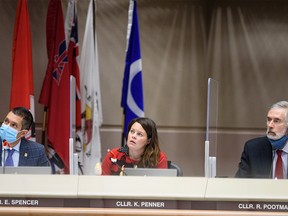 Coun. Kourtney Penner said administration's comment that most people would not have the expertise to write a land use district was fair. She said as a councillor she doesn't have that expertise, and that is why the city hires professional planners.
Article content
"We either want to move at the speed of business and reduce red tape, or we want to do public consultation on absolutely everything," she said. "And we can't do both."
Penner said the city needs to respond to emerging housing trends, and trust that the market won't build things that people don't want to rent or buy.
After the public hearing, Chabot put forward an amendment that would have seen the matter returned to administration for more thorough public consultations, however it was defeated in a 5-6 vote.
Councillors had heard that the request for a more in-depth consultation could cost upwards of $500,000, and would take until Q2 of next year. Other councillors said they had the information they needed to vote on the matter, without hearing more public consultation.
Article content
A slightly amended motion to move the matter on to an October council meeting was then carried in a 7-4 vote, with councillors Chabot, Sean Chu, Dan McLean and Terry Wong opposed.
Chabot said administration delivered what was asked of them last April in a timely fashion, and he didn't fault them for that.
"In my opinion, we didn't give clear enough direction to administration," he said. "It's my fault."
He said he has some concerns with the proposal administration has brought forward, specifically with its recommendations around parking requirements. He also said the comments he heard Friday suggest there are many members of the public who do have the expertise to provide meaningful feedback.
[email protected]
Twitter: @brodie_thomas